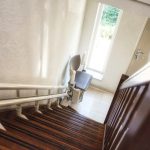 Stairlifts have become an essential addition to countless homes, offering a newfound sense of mobility and independence to individuals with limited mobility. The market is brimming with options, making it crucial to choose the right stairlift that suits your specific needs. To help you make an informed decision, we're going to explore some of the best stairlifts of 2023, from various reputable brands, to provide you with insights into their features, similarities, differences, and why they stand out.
1. Outdoor Electra-Ride™ Elite – SRE-2010E
For those who need a stairlift to access their outdoor spaces, the Outdoor Electra-Ride™ Elite – SRE-2010E by Bruno is a top choice. Its design and construction are geared toward enduring the elements, ensuring that it will stand up to the harshest weather conditions. The SRE-2010E features a comfortable and stable chair that glides smoothly up and down the stairs, providing users with the ability to enjoy their outdoor spaces with ease.
2. Electra-Ride™ Elite – SRE-2010
Bruno's Electra-Ride™ Elite – SRE-2010 is designed for indoor use and is a great option for those who need a stairlift to navigate their home. This model is known for its compact design, making it suitable for narrow staircases while still offering a comfortable and secure seating experience. The SRE-2010 also features a smooth and quiet ride, ensuring minimal disruption to your daily life.
3. Elan Straight Rail Stairlift – SRE-3000
Bruno's Elan Straight Rail Stairlift is a popular choice for its seamless integration into various home décors. It offers a smooth and reliable ride on straight staircases, allowing users to move between different levels of their homes with ease. The SRE-3000 is known for its durability and compact design, making it a space-saving option for homes with limited space for stairlift installation.
4. Residential Vertical Platform Lift – VPL-3100
Sometimes, a traditional stairlift may not be suitable for individuals with wheelchairs or those who require a vertical lift. That's where the Residential Vertical Platform Lift – VPL-3100 by Bruno comes in. This model is a versatile choice for providing vertical access within your home, ensuring you can move freely between floors. The VPL-3100 is known for its robust construction and safety features, making it a dependable choice for individuals with mobility challenges.
5. Residential Vertical Platform Lift (14′) – VPL-3200B
For homes with greater vertical distance between floors, the Residential Vertical Platform Lift (14′) – VPL-3200B is the ideal solution. It is designed for long-distance vertical travel and can handle up to 14 feet with ease. Just like its counterpart, the VPL-3100, the VPL-3200B offers a safe and reliable way for those with mobility challenges to access different levels of their homes. It's worth noting that the VPL-3200B is especially helpful for homes with multiple stories.
6. Electra-Ride™ III – CRE-2110
The Electra-Ride™ III – CRE-2110 by Bruno is another indoor stairlift that stands out in the market. It's designed to be exceptionally user-friendly, offering a comfortable and secure ride. What sets it apart is its ability to handle tight or curved staircases with precision. This feature is invaluable for homeowners with unique staircase designs, as it ensures a seamless fit and reliable performance.
What Sets These Stairlifts Apart?
Each of the stairlifts mentioned above boasts a unique set of features that cater to specific needs and preferences. However, they all share some common characteristics that make them some of the best stairlifts of 2023:
Safety: All of these stairlifts prioritize safety with features such as seatbelts, smooth starts and stops, and sensors that detect obstacles in the path, ensuring the user's security during operation.
Comfort: A comfortable and ergonomic design is a common feature among these stairlifts. They provide a supportive and cushioned seat, easy-to-use controls, and a smooth, gentle ride up and down the stairs.
Durability: These stairlifts are built to last, with sturdy construction that can withstand years of use. Their durable materials and finishes make them resistant to wear and tear.
Customization: Many of these models can be customized to match your home's décor. They come in a variety of upholstery options, finishes, and rail colors to ensure a seamless integration into your living space.
Quiet Operation: The stairlifts operate quietly, ensuring minimal disturbance to others in your household.
Why Choose Bruno Stairlifts?
Bruno is a well-established and reputable brand in the stairlift industry, known for its commitment to quality, safety, and customer satisfaction. Their stairlifts are crafted with precision engineering and meticulous attention to detail. Whether you need an indoor or outdoor stairlift, a vertical platform lift, or a solution for tight or curved staircases, Bruno offers a range of options to cater to your specific requirements.
Conclusion
When it comes to choosing the best stairlift for your needs in 2023, the variety of options provided by Bruno ensures that there is a solution for everyone. The outdoor and indoor models, vertical platform lifts, and the ability to handle unique staircases make Bruno stairlifts a top choice for those seeking mobility and independence within their homes. With their unwavering commitment to safety, comfort, durability, and customization, these stairlifts offer a reliable and elegant solution to the challenges of navigating stairs with limited mobility. Whether you require an outdoor stairlift for your patio, an indoor stairlift for your home, or a vertical platform lift for multi-story accessibility, Bruno's stairlifts are designed to make your life more convenient and enjoyable.
Got Questions? Let Us Help!
Penn York Medical is a local healthcare medical equipment shop located in Binghamton, New York since 1957. For over 44 years, we have been selling a wide selection of healthcare products, along with installing and repairing our equipment to ensure you're always getting the best. We offer walkers, wheelchairs, hospital beds, vehicle mobility assistants, scooters, stairway lifts, motorized wheelchairs, lift chairs, and much more! Call us today and let us find an affordable solution for your home medical needs.