Home Medical Equipment in Binghamton, NY
Established in 1957, Penn York Medical sells and services home medical equipment for individuals throughout the Binghamton, NY, surrounding areas and northern PA. In our complete showroom, expert staff members will demonstrate the functionality of any product we stock to give you a clear idea of what you're buying. We want to make sure you're getting premium products that will improve your quality of life. Visit us today!
Your Local Healthcare Supplies Experts
As a top-rated business for home medical equipment and accessible equipment repairs in Binghamton, Park Terrace, and Port Dickinson, NY, Penn York Medical provides every customer with the personal attention they need to make an informed purchase decision. We're happy to answer any questions on your vehicle lift or stairlift installation or address any concerns as you shop for accessibility equipment that improves your quality of life.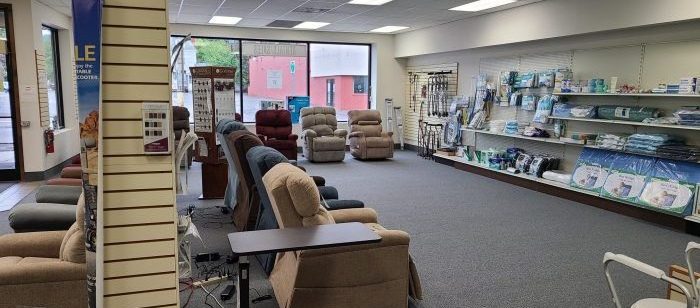 We're a family-owned and -operated business established in 1957.
We provide every customer with personal attention and individualized services.
We service every product we sell, so you always have the support you need.
We operate a complete showroom with 2,500 sq./ft. of inventory on display.
We'll gladly demonstrate the use of products available in our showroom.
wide range of products
Upon visiting our 2,500 sq./ft. showroom, you'll discover the wide range of products we sell. Showroom employees gladly demonstrate how any product works while providing you with the necessary information to shop wisely. Get up close and personal with these mobility mechanisms as our team makes personalized recommendations to best inform your purchase. Once you've selected the devices you want, we offer the necessary services to install and maintain this equipment. Trust our talented representatives with coming to your home or working on your vehicle to install or service your lift, bed, chair or any other product you bought from us.
Whether you're a family member shopping for a loved one or a medical professional in search of resources for patients, we sell, install and service all of the home medical equipment we carry. We've maintained an exceptional reputation in the community because we provide everything customers need to increase their mobility. Come tell us what you need and we'll make sure you get it.
---
Proudly offering medical equipment and supplies to the following areas:
Apalachin, NY Binghamton, NY Endicott, NY Endwell, NY Johnson City, NY Port Dickinson, NY Vestal, NY
Get the Supplies You Need
When you need home medical equipment for a family member or a patient, contact us at Penn York Medical today. Our service and selection are geared toward improving your quality of life.